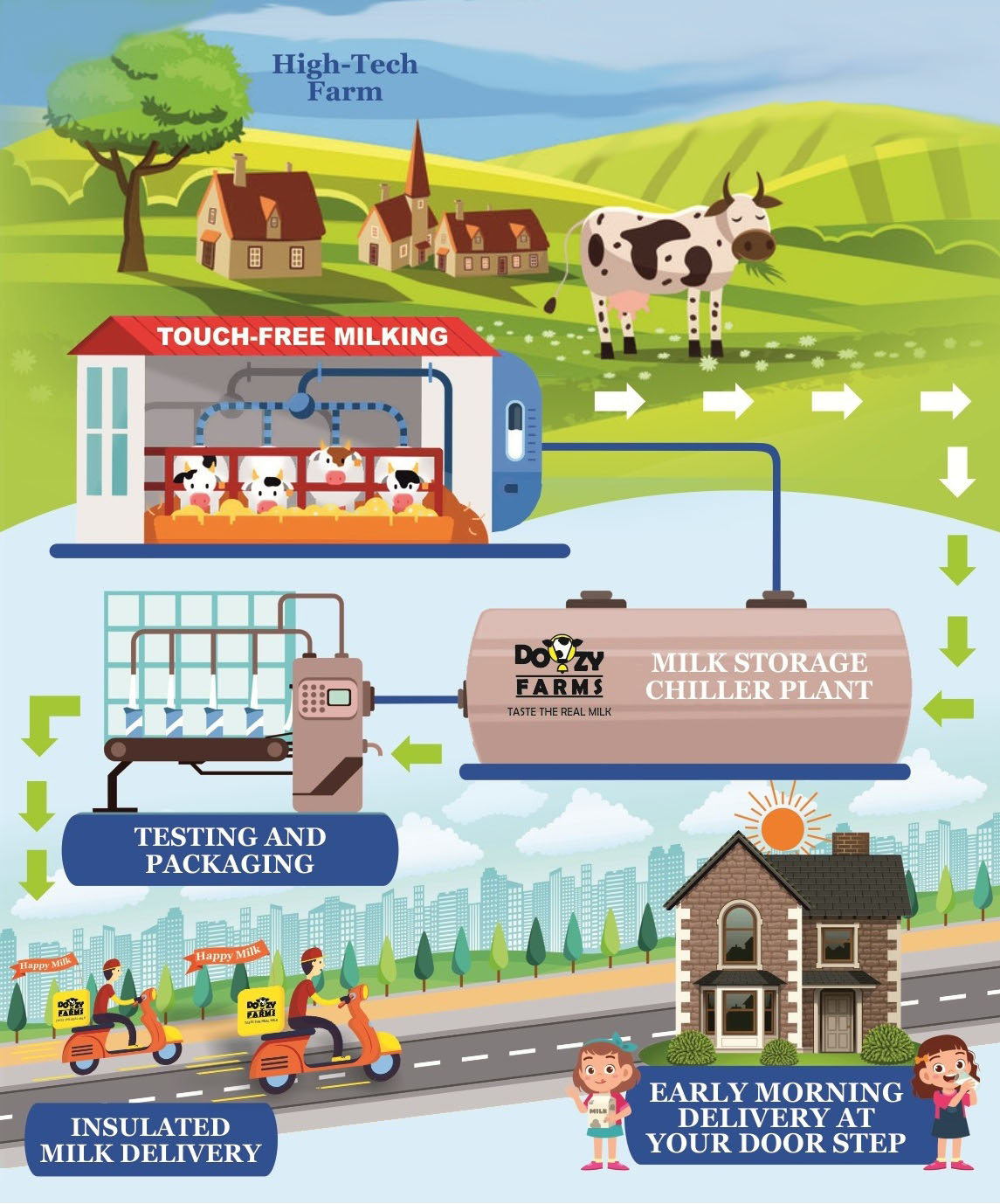 Spread over 3 acres of land in Village of Salempur Shekan , surrounded by beautiful rice paddies, Sunflower and mustard fields all around. The Farm is designed to cater to all comforts of our cows with places to sit and chew both under the shade and in open greens. Each luxurious shed is 23 feet high and provides for natural ventilation and movement of cows and to keep them cool in summers. Each shed is equipped with giant fans and water foggers to keep them cool during the summer. There are automatic massagers which are just loved by our Cows. They have rubber mats to sit on which other than comfort helps in regulating their body temperature.
Each barn is equipped with Stainless steel water troughs which have clean water 24*7. These little things matter to the cows. It's a lot of hard work but worth it at the end. After all it's the happy cows that give the best quality milk.
To get the best quality of milk you need to select the best cows for your farm and give them the best feed. At Doozy Farms when we started not only we selected the best cows but over the course of time have worked closely with our herd to improve our overall genetics of the farm. We use the best available semen and rear our own breed which continues to add productive cows to the farm every year.
We pamper our cows with all the comfort that we can provide to them – starting from Massagers to Rubber mats, Freedom to roam around and eat and drink when they want. We believe that a Happy Cow will produce the best quality of milk (we call it Happy Milk) and that our family drinking that milk will get the best nutrition value from it.
Me and you may not have a nutritionist but our Cows do have one. Senior Nutritionist from Punjab Agriculture University helps create the balanced feed for each group of cows as per the needs. Each Cows receive Mineral Mixture as part of there regular diet with includes Vitamins and Minerals like Zinc Cooper Selenium for their overall immunity and well being. It has been established by various international veterinary journals that 25% of the vitamins given to cows actually make it into the milk. Thus naturally fortifying the milk that our cows produce.
Each milking cow has a monitor around her neck which helps us ascertain overall milk production and health of the Cow. The Software will automatically create reports for the Farm doctor based on Milk history to identify pre symptoms of any illness so that immediate attention can be given.
We love our Cows and have tried to create the most comfortable environment for them on our farm.
They are fed with the highest quality of fodder made especially for them based on their nutrition needs. We make sure that their food is free from any kind of insecticide, pesticide and other Chemicals.
We have TMR machine, Total Meal Ration is a method of feeding cows that combines all forages, grains, protein feeds, minerals, vitamins and additives formulated to a specified nutrient concentration into a single feed mix. Our machine makes sure that the cows get the most nutritious diet for healthy rumination process and keeps the cows fit and active in general. In short we can say that even the food given to cows is untouched by human hands.
Our farm is equipped with the most advanced milking machine, the 2X6 Herringbone parlour from Deleval France, who produce one of the best parlours in the world. It senses the position of the cow, records the amount of milk delivered, and other information which it sends to the main computer. Before the Cow comes in the parlour they are given a bath in the holding area which helps them to cool down and relax further before the milking operation is started. The cows walk into the parlour and are milked automatically by the machines. This is what we call "No Human Touch" Milking. Even before we start the milking we clean the udder of the cow with Iodine dip and kitchen tissues and then only the milking is commenced, Post milking a second post dip is applied to protect the cows from getting any infections post the milking process.
The fresh milk then passes through the stainless steel pipes and goes to Bulk Milk Chiller where the milk is chilled to below 4degree centigrade so that Original taste of the milk is preserved and low bacteria count in the milk is achieved. In the complete journey the milk is never exposed to atmosphere and being a sealed process milk can not be contaminated in any way or form.
We believe that the best milk that we can get at our doorstep is Non Standardised, Non Homogenised, Non Pasteurised Fresh Farm Milk. For this reason other than chilling the milk down to below 4 Degree we do not subject our milk to any other process which takes away the natural taste or form of milk. As Indians we anyway will boil our milk before drinking, hence any additional process prior to it will only result in depletion of overall taste and micro nutrients in the milk.
We ensure that the lack of Pasteurization has no impact on the final milk delivered to our customers by ensuring that the cold chain is maintained all the way from the time milk is packed to the time it is delivered to your door step in insulated boxes.
Our milk is free from antibiotics as any sick cow which receives antibiotics is milked separately and not part of parlour milking. In addition we get the feed of cows tested and all feed is prepared in front of us, so that we ensure no harmful aflatoxin makes it into our milk.