Pure Cow Milk
Our MILK IS NON-CARCENOGENIC. We test OUR FEED for AFLATOXIN to ensure that the milk doesn't get infused Aflatoxin spore to ensure that you have the best quality milk in the market.
Our feed for the cows if formulated by renowned Bovine Nutritionist to ensure a high quality feed to our cows. The feed is manufactured under our supervision to ensure quality ingredients. The feed is further fortified with mineral & vitamins so that the milk you get is naturally fortified.
We supply farm fresh Chilled, non-pasteurized, non-homogenised, non-standardised COW MILK to Tri-city area.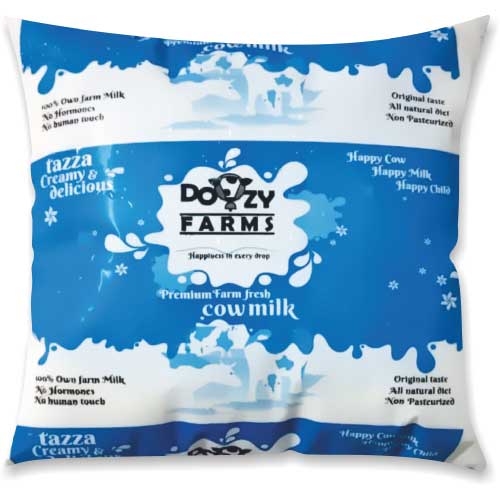 When you drink our milk you are assured of high quality & free from the fear of any adulteration.
With the integration of our new farm (Near Baddi), here we produce all the green fodder in-house. This hom grown fodder is as Organic as possible since it is produced using no pesticides or chemicals at all. Our cows on this farm are fed this nutritious green fodder and they produce a milk which is as good as organic. The milk produced by cows fed on this green fodder and from this farm will be available under our ORGANIC Brand of "Dairy Naturals". Just like Doozy Farm Brand – Dairy Natural Brand continues to offer all the other features mentioned above of our premium brand.
Key Features:
No Hormones
No Antibiotics
No Chemicals
No Adulteration
No Human Touch